Woodrow Wilson family home for sale in Carlisle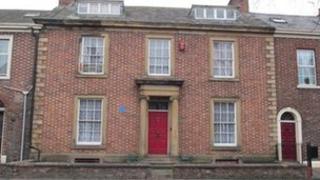 The ancestral home of the former United States president Woodrow Wilson has been put up for sale in Cumbria.
The Grade II-listed Georgian family home was built in 1831 by the Reverend Thomas Woodrow, the grandfather of the 28th president.
The current owner, Peter Dance, is selling Cavendish House in Warwick Road, Carlisle, for £265,000 after 27 years in the property.
President Wilson held office between 1913 and 1921.
A blue plaque marking the six-bedroom house's former famous residents has since been installed on the outside of the property by the Carlisle and District Civic Trust.
Mr Dance said: "When I bought the house about 27 years ago, there was just the hint that [Wilson's] mother Jessie was born in the house, which she was not.
"She was actually born in a house right next to the castle - the house she was born in no longer exists.
"She came to my house when she was a young girl - that was in 1832."
Mr Dance said she only stayed three years because the Reverend Woodrow moved the family to the US in 1835.
President Wilson visited Carlisle himself in December 1918 in what he called a "pilgrimage of the heart".
During a visit to London, he took the Royal train to the city and went to see the church where his grandfather once preached.
He also saw other locations, including Cavendish House.