Carlisle's £8.2m archive centre opens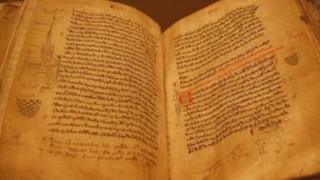 A new £8.2m archive centre is being officially opened in Carlisle later.
More than one million historical objects reflecting Cumbria's history have been moved from Carlisle Castle to a purpose-built base at Petteril Bank.
Among the items in the archive is the Royal Charter of Carlisle from 1316, which bears the seal of Edward II.
A Heritage Lottery Fund grant of £4.8m - the largest ever awarded in Cumbria - helped to pay for the new centre.
The Georgian, Grade II-listed Lady Gillford's House has been transformed from a state of dereliction over the past nine years to become the focal point of the archive.
Items are now housed in a temperature and humidity-controlled strong-room protected by an inert gas fire protection system, which would douse the room in gas to kill flames instead of using water.
The Cumbria County Council cabinet member for the archive service, Gary Strong, said: "The grant from the Heritage Lottery Fund and our £3.3m investment shows the importance we place in protecting our local history.
"I'm sure that many people now and in the future will take full advantage of this fantastic facility."
The site will be officially opened by veteran mountaineer Sir Chris Bonington.