Hadrian's Wall experts mull removing illegal plaque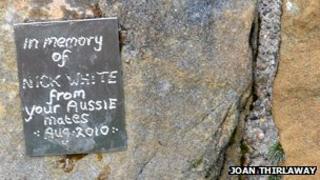 Experts are trying to work out how to remove a small metal memorial plaque, which has been stuck to stonework on Hadrian's Wall.
The Roman wall is a World Heritage Site and a scheduled monument, making it illegal to deface or damage it.
The National Trust is consulting with English Heritage on how to remove the plaque, secured with strong glue, without damaging the stone.
The plaque, at Steel Rigg, was reported to authorities before Christmas.
Andrew Poad, who looks after Hadrian's Wall properties for the National Trust, said: "We are currently exploring ways of trying to remove it.
"What we do not want to do is commit another criminal offence by damaging the stonework by removing it."
The plaque reads: 'In memory of Nick White, from your Aussie mates', and bears the date August 2010.
Local resident Joan Thirlaway said: "I was taking a photograph of the sycamore tree, as everybody seems to do, and I noticed something was catching the sun and beaming almost like a searchlight.
"I thought that someone had left a tin can on the wall, so I would pick it up.
"When I went over I saw this plaque glued onto the wall.
"I just couldn't believe someone had done this, and no-one had removed it."
Hadrian's Wall is 84 miles (135km) long and stretches between Tyneside and Bowness on Solway in Cumbria.