Christmas trees used for flood defences in Cumbria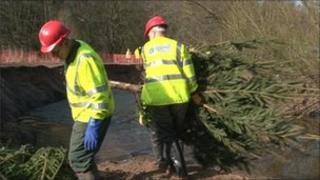 A project turning unwanted Christmas trees into "green" flood defences is to be expanded across England, after a successful pilot in Cumbria.
The Environment Agency has been using the trees instead of steel pilings, to stabilise riverbanks.
It makes the rivers less likely to cause floods after heavy rain.
The scheme has been tested on the Derwent, Marron and Glenderamackin rivers in Cumbria, and the River Bollin in Cheshire.
The trees, often donated by the Forestry Commission, also provide a habitat for wildlife and help filter out silt which can smother fish eggs.
Mike Farrell, from the Environment Agency, described it as the "ultimate green gift for people and wildlife living along our rivers".
"We hope this innovative use of Christmas trees will have great potential for reducing flood risk," he said.