Cumbria Police Authority to shut 13 stations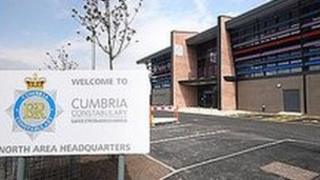 Around a dozen police stations in Cumbria are to be sold off as part of a cost-cutting drive, it has been announced.
Those to shut include Wigton, Keswick and Cockermouth in the west of the county as well as Maryport, Cleator Moor, Egremont and Millom.
Cumbria Police Authority, which needs to trim £20.3m from its budget by 2016, said policing had changed and the public did not visit stations as often.
Many of the stations that are being closed will be sold off.
The other stations earmarked for closure are Milnthorpe, Ambleside, Dalton-in-Furness, Kirby Stephen and Alston.
Barrow station is "outdated" and will also close and a new station and custody suite will be built in the town.
The authority said the closures would save almost £120,000 a year in running costs and £2.8m would be raised from the sale of the buildings.
Chairman of the authority Ray Cole said: "The way Cumbria is policed has changed dramatically over recent years, and officers are no longer reliant upon static police buildings.
"The number of people visiting stations has also been in steady decline for many years, with members of the community preferring to contact police via phone and email.
"The constabulary has invested heavily in mobile working technology and officers can now complete paperwork and access police systems through mobile devices vastly reducing the need for police stations.
"Detectives can also interview people using mobile recording equipment."
Share premises
The Durranhill station in Carlisle, which opened in 2009, will remain the HQ for the north of the county, the authority said.
Alston station, which is too big, will be sold and officers will move into the building next door.
Kirkby Stephen station will also be sold and officers will continue to use the annex.
The old stations in Wigton, Keswick and Cockermouth will also be put up for sale, and a new base built in Cockermouth.
Maryport station will also close and officers will share premises with the fire service.
Mr Cole said: "Officers spend the majority of their time in the community, leaving many of our buildings oversized, underused and outdated."
Deputy Chief Constable Stuart Hyde said the force would provide "the best policing service that we can afford".