Sharp increase in Cumbria foodbank demand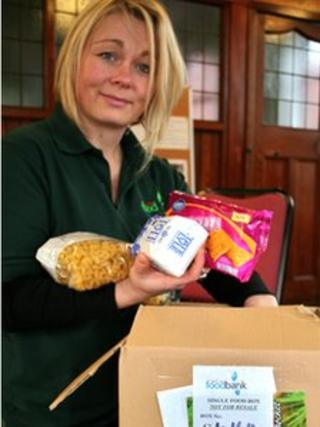 For Jessie Hendry, the idea behind foodbanks is simple.
"It is all about local community feeding local community", she said.
The schemes work by redistributing donated food to people who are going through financial crisis, which means they are struggling to buy things to eat.
Existing schemes in Cumbria say they have seen a big increase in demand and there are now plans to set more up with the hope that the whole county will be covered soon.
Ms Hendry is the project co-ordinator for the North Lakes Foodbank, which has distribution centres in Whitehaven and Cockermouth.
Since April, they have helped 1,000 people - a significant increase from the 437 between April 2010 and April this year.
The scheme operates with voucher holders, such as charities, citizens' advice bureaux and children's services, giving people vouchers so they can collect boxes.
Short-term crisis
The number of voucher holders now working with North Lakes Foodbank has increased to 80.
Ms Hendry said: "The idea is that when people are in crisis - crisis for us is that people don't have any money at that period in their lives and they don't have any food - then they can come along to the agencies that are working with them."
She said the agencies looked at the bigger picture while they were looking after a short-term crisis.
The foodbank offers four types of boxes - single, couple, family and street homeless.
The food in them is nutritionally balanced for three days and people can receive them up to three times.
The scheme gives out about a tonne of food a month and each box has about 10kg of food inside.
The food comes from individuals and through churches, schools, community groups and small businesses.
'Huge demand'
Ms Hendry said they were always in need of food donations as well as volunteers to help with packing and distribution.
The North Lakes Foodbank, which was set up by the Trussell Trust, hopes to set up a series of satellite distribution points around Allerdale and Copeland, which could be in places like cafes.
There are other plans to set up schemes in other parts of Cumbria.
Ms Hendry said: "Our vision is that everybody that is in crisis in Cumbria will be able to access food."
Jo Northey, the curate for all the churches across Barrow, is working to set up a foodbank.
She said: "We would be aiming to help anybody who was suffering from some crisis, such as a delay in benefits or illness meaning they were off work and not getting sick pay who just have that crisis point where there isn't money to buy food."
She hopes the scheme will be up and running by the end of the winter.
"I think there is an increasing demand and I think as these projects get up and running and people know they can be relied upon, the demand is huge," she said.