Kinks star Ray Davies joins Coniston audience for play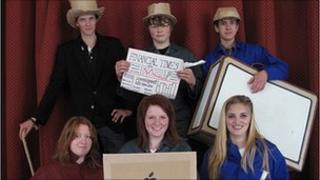 Dozens of people attended a Lake District village venue to enjoy a musical play written by Kinks singer Ray Davies.
Six students from John Ruskin School performed Child's Play, which features Kinks songs including Waterloo Sunset and All Day and All of the Night.
The musician joined the 110-strong audience for the sell-out performance at the Coniston Institute on Friday.
The play was part of a Grizedale Arts project to revitalise the building.
The first performance of Child's Play was at London's Southbank Centre in September.
'Amazing warmth'
Speaking before the performance in Cumbria, Davies described the students as "very accomplished".
He said: "It's a great village, it's got a great community spirit."
Grizedale Arts deputy director Alistair Hudson said: "It went really well.
"It was definitely a landmark moment in the village in changing the way people think about the institute."
He said the play had been "quite poignant" because of its subject matter, which examines the past 60 years of cultural and political life in the UK.
"There was an amazing warmth in the place", he said.
Mr Hudson said the Kinks legend had enjoyed the performance.
"He just said it was fantastic, seeing all the village come together in the institute."
He described working with the musician as "fantastic", saying he had really known how to encourage the students and push them the extra yard, but had been generous in letting them enjoy the limelight.
He said: "He just sat back and let them have their moment."
And after the play, the musician went backstage to congratulate the performers.
Mr Hudson said they had more plans for the institute, including repainting the hall and building a library to develop it into a cultural centre.
The performance is due to be put online so it can be seen by a wider audience.