Families pay tribute to A7 crash victims in Cumbria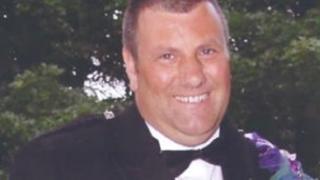 The families of two people who died in a crash on the A7 near Carlisle have paid tribute to their loved ones.
Lorry driver Ian Gordon McQueen, 43, from Lochside, Dumfries, was described as a "big kid at heart".
Rebecca Louise Rennie, 23, a passenger in a minibus, was from Newcastleton in the Scottish Borders and was described as a "lovely, bubbly girl".
The collision involving a car, a minibus and a lorry happened at the Blackford junction on Thursday morning.
Mr McQueen's wife Laura said: "He was just a big kid at heart.
"He will be very sadly missed by all his family, friends and colleagues."
A spokesperson for Rebecca Louise Rennie's family said: "Rebecca liked to live life to the full. She was greatly loved by her family, boyfriend Nicky Gardner and many friends.
"She had a lovely, bubbly personality."
The driver of the minibus, a 56-year-old man from Newcastleton, was seriously hurt.
Other passengers and the female driver of the car suffered a range of injuries, none of them are believed to be serious.