Alfred Wainwright archive returns home to Cumbria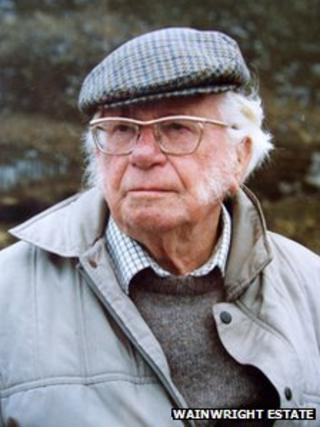 A collection of archive material from Alfred Wainwright is returning to Cumbria thanks to a £184,200 grant from the Heritage Lottery Fund.
The grant will be used to purchase the collection of notebooks, photographs, annotated maps and original pages, sketches and proofs of his books.
It will be kept at the Cumbria Archive Centre in Kendal for the public to learn about his life and work.
Cumbria County councillor Gary Strong says the council is "over the moon".
The collection also includes a range of personal papers including correspondences with his late widow Betty Wainwright and letters from fans.
It will be preserved in an online catalogue and used to develop a programme of activities for groups of all ages to use for research.
Mr Strong, said: "We're over the moon. Anyone who knows and loves Cumbria, and more specifically the Lake District, will be familiar with Wainwright and with these world famous guide books.
"Wainwright and his books are a fundamental part of Cumbria's culture and heritage and as such it is extremely important that records like these are retained and protected for future generations to enjoy."
'Share his passion'
The £207,000 project is also supported with a grant and donation from Friends of the National Library and Frances Lincoln, publisher of the Wainwright guides.
Alfred Wainwright, who died in 1991, was a significant historical and cultural figure for Cumbria.
He produced some of the first guide books to the fells of the Lake District.
The books are still popular and have remained in print since 1955.
Sara Hilton, head of Heritage Lottery Fund North West, said: "Through his writings and sketches Alfred Wainwright was able to share his passion for the fells with many generations of visitors, inspiring many to follow in his footsteps across this beautiful landscape.
"With our support, Cumbria County Council will preserve this collection of personal papers, drawings, sketches, photographs so that they can be studied and enjoyed for many generations to come."