Carlisle recycling plant 'will cut landfill waste'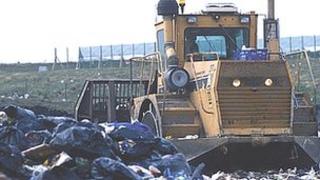 The first of two new waste recycling plants, aimed at reducing Cumbria's reliance on landfill sites, is due to be officially opened.
The plant, at Hespin Wood in Carlisle, is part of a 25-year deal worth more than £700m between the county council and waste management firm Shanks.
The facility uses technology called mechanical biological treatment (MBT), which speeds up waste decomposition.
The plant is due begin operating on 13 December.
It is estimated the Carlisle plant and a similar facility in Barrow, due to be up and running by April 2013, could reduce the amount of rubbish sent to landfill sites in Cumbria by 80%.
'Greener system'
The MBT process sorts out recyclables and allows waste to be shredded, dried and transformed into a solid fuel, which can be burned to provide an alternative source of energy to traditional fossil fuels.
Tim Knowles, Cumbria County Council's cabinet member for environment, said: "This MBT plant will revolutionise the way we deal with waste in the north of the county and ensure we have a greener, more cost-effective system of managing rubbish for years to come.
"Sending large amounts of waste to landfill is quite simply no longer a viable option economically or environmentally."
The county council deals with about 250,000 tonnes of household waste a year, 75,000 tonnes of which will be processed by each MBT plant.
Some waste, such as bulky non-recyclable items, will still be sent to landfill but the council estimates the total will reduce from about 150,000 tonnes to 30,000.
A further 100,000 tonnes of waste will still be recycled directly by households via kerbside collections or recycling drop-off points.