Windermere Steamboat Museum redevelopment design chosen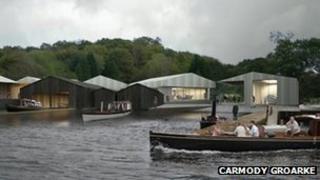 Architect firm Carmody Groarke has been chosen as the winner of a design competition to redevelop the Windermere Steamboat Museum.
The London-based company was chosen from a shortlist of eight for the £10m scheme in Cumbria.
The museum has a nationally important collection of steam yachts and other historic vessels.
It is currently closed to the public. Work has started on renovating the collection.
Carmody Groarke's recent projects include the 7 July Memorial in London's Hyde Park, and Studio East Dining, an events pavilion overlooking the 2012 Olympic site in east London.