Grant of £26,000 to help restore hay meadows in Cumbria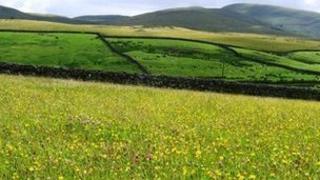 Hay meadows in Cumbria will be restored thanks to a funding grant of more than £26,000.
The Cumbria Biodiversity Partnership (CBP) has been given the £26,441 by the SITA Trust.
It will be used to employ an ecologist to work with farmers to bring back flowers lost to much of the fields last century due to ploughing and the planting of grass.
The 30-hectare meadows are in the Lake District National Park and Orton Fells.
Farmers, contractors, Natural England staff and volunteers, will work to bring back the melancholy thistle, great burnet, eyebright and various daisies in summer 2012.
Summer meadow flowers were lost to much of the county when fields were ploughed and planted with more "productive" types of grass.
'Traditional farming'
Graham Jackson-Pitt, from CBP, said: "This money will enable us to continue to work closely with contractors and the farming community to bring real benefits to Cumbria's hay meadows.
"This project is helping secure hay meadows as part of Cumbria's traditional farming landscape whilst bringing a much-needed boost for biodiversity."
New techniques will be used to introduce seed to the meadows, including more labour-intensive methods like hand collecting seed or cutting green hay with small machines and raking it out by hand, to using large modern tractors and forage harvesters.
SITA Trust provides funding through the Landfill Communities Fund for community and environmental groups to carry out improvement projects.