Sellafield waste reactor proposed to convert plutonium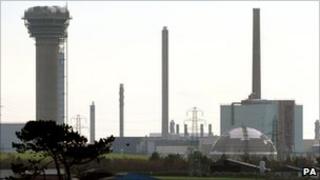 Plans to build a new reactor at Sellafield in Cumbria to convert waste plutonium into electricity have been proposed by energy company GE Hitachi.
The multi-billion pound reactor would recycle waste from the UK's nuclear plants, currently stored at Sellafield.
The government spends £2bn a year managing it and is looking at options including reprocessing or storage.
GE Hitachi's Danny Roderick said the 600-megawatt plant could recycle the existing stockpile in about five years.
He said: "We could take that 100 tonnes of plutonium oxide and put it through our prism reactor to make power."
He also claimed it would cost less than building new mixed-oxide fuel (MOX) plants, an alternative method of reusing the stockpile of separated plutonium.
Britain's only MOX plant at Sellafield closed earlier this year because of the uncertain demand from Japan following the Fukushima nuclear crisis.
Mr Roderick said: "This proposal is still in the consultation process with the UK government. But, if the government decided to pursue the reuse option, we want to be there."