Cumbrian women's breast screening 'four months behind'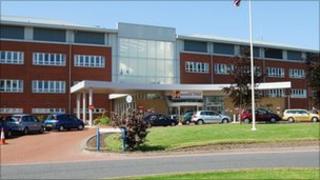 Breast screening for women in Cumbria is still "four months behind" after services at hospitals in Whitehaven and Carlisle were suspended last year.
In July 2010, North Cumbria University Hospitals NHS Trust announced breast screening was being temporarily halted for six months for a major review.
It came after concerns 1,600 women might not have been tested properly.
Health officials say they are now "on track" clearing the backlog after restarting screenings in January.
Dr Rebecca Wagstaffe, deputy director of public health in Cumbria, said: "The backlog will be cleared in two years.
"We're already at the end of the first year and we are exactly on track to actually complete that by the end of next year.
"By January 2013 we'll be right back on track and I would say to women now they're probably no longer six months behind, it's nearer four months behind now."
'Slow growing'
The review involved 1,600 women who had had further tests following routine mammograms since April 2007 at Carlisle's Cumberland Infirmary and Whitehaven's West Cumberland Hospital.
Trust officials decided to hold the review when data showed that, among women who were called for a second screening, cancer was detected in fewer cases than would be expected.
In August 2010, it emerged nine women had cancer having originally been given the all-clear after screening.
Following the re-established screening programme in January, the catch-up programme began, with those women who had waited the longest being seen first.
Dr Wagstaffe said: "Fortunately breast tumours are relatively slow-growing tumours so a four-month delay is not going to make any significant difference to women.
"One of the reasons it's taking two years to catch up, is you can't just jam more and more women into fewer and fewer appointment slots."
The service is now run by the Newcastle Upon Tyne NHS Foundation Trust.