Churches in Cumbria to share ministers and buildings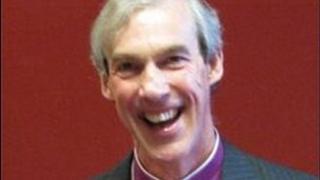 Sharing ministers, some services and buildings, but not necessarily the sacrament, is the goal of a new agreement between three churches in Cumbria.
Methodist, United Reformed and Anglican leaders have described it as "historic", creating what they hope will be the first ecumenically united county.
The Bishop of Carlisle, the Right Reverend James Newcome, said a "huge amount" of work would be needed.
He said: "If you can't make it work in Cumbria you can't make it work anywhere."
He believes the county is best placed for such an agreement because it has distinct boundaries - unlike many other parts of the country - which are the same for each of the three churches involved.
'Visible unity'
The Bishop said the Declaration of Intent was supported by the other five main Christian denominations in Cumbria - Roman Catholic, Salvation Army, Baptist, Quaker and Church of Scotland - who will be at the signing ceremony.
He added: "Our hope is that by joining together much more closely as Anglicans, Methodists and United Reformed, we'll provide a kind of basis, a foundation, one which other people can then stand."
The Reverend Richard Church, Moderator of the North West Synod of the United Reformed Church, said: "[We have] always been passionate about the visible unity of the Church.
"We are so encouraged that in Cumbria this dream is being brought closer to accomplished reality."
Bishop James admitted the county - and the country - is a long way from total union.
He accepted there were still sticking points between some denominations. Few Anglicans and Roman Catholics, for example, would be happy to share Sunday morning Eucharist.
He said: "We're a very long way from that, I'm afraid. At the moment it's difficult for Anglicans and Roman Catholics to share together but there's a lot that we can do together.
"I was the minister of a church some years ago, just outside Cambridge, and we built a new church building there because the old one became too small for the congregation and six denominations were involved including the Roman Catholics.
"One building, we all shared it and even though we couldn't share the communion service, we were able to share other services together. We did an awful lot together."
The declaration is about practicalities as well as church unity. Bishop James is keen to use church buildings more efficiently, especially in villages with small congregations and more than one church.
He explained: "Some of the buildings are much better than others. We're going to be taking a look at all of them and working out which ones are the most useful and the most appropriate and, wherever we can, using them together rather than having lots of separate ones and being in them separately."
The Reverend Richard Teal, Chair of Cumbria Methodist District, said: ''The Declaration of Intent... is a result of vision, hard work, prayer, trust and openness.
"It is now important that we do not just sign it but ensure its far reaching implications become a reality."