Concerns 'addressed' at Cumbrian baby unit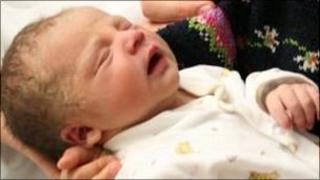 The bosses of a Cumbrian maternity unit at the centre of a police inquiry say they are confident they have addressed issues raised in a damning report.
Police began probing several deaths at Barrow's Furness General Hospital after a coroner said midwives missed chances to treat Joshua Titcombe in 2008.
The Care Quality Commission (CQC) then gave the hospital until Monday to address concerns in a critical report.
Hospital officials now say "significant improvements" have been made.
Joshua Titcombe, of Dalton, died nine days after his birth at the hospital in October 2008.
A subsequent inquest ruled he died of natural causes, but that midwives had repeatedly missed opportunities to spot and treat a serious infection.
The University Hospitals of Morecambe Bay NHS Foundation Trust was criticised by the CQC after surprise inspections at the maternity ward.
The CQC report highlighted six areas of concern in care provision, including the safety and welfare of patients, the suitability of maternity facilities and the degree to which staff worked together.
The regulator confirmed it had the power to close the ward if it failed to meet standards.
Jackie Holt, the trust's director of nursing and modernisation, said: "We were extremely disappointed that concerns were found. It isn't acceptable and we have made significant improvements since then.
"Whilst we have addressed all the actions set out by the CQC, it does not mean the improvement work is over."
The unit is currently working alongside Liverpool Women's NHS Foundation Trust which is providing mentoring and support to their colleagues in Cumbria.
Sascha Wells, head of midwifery, obstetrics and gynaecology, added: "It is extremely important that women continue to have confidence in our maternity services and I would like to reassure them that our services are safe."
The CQC will review evidence submitted by the trust before reporting back at a date yet to be fixed.