Lake District flood-hit path repairs hit £1m mark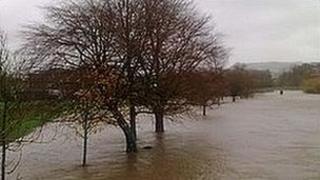 The cost of completed repairs to Cumbria's footpaths - damaged in the 2009 floods - has hit the £1m mark.
Hundreds of yards of riverside paths were washed away and landslides swept through hillside tracks, during heavy rainfall in November that year.
Contractors appointed by the Lake District National Park Authority are carrying out repairs totalling £1.7m.
It is being funded by Defra, Cumbria County Council and the Rural Development Programme for England.
The landmark £1m repair involved the bridleway running from Water Side House to Finsthwaite House, near Newby Bridge.
Dylan Jackman, the project co-ordinator, said: "The unprecedented rainfall in November 2009 left a trail of destruction across the national park, and what happened to this path was repeated in dozens and dozens of locations all over the national park.
"There are still further repairs and improvements to be complete before the end of the project in March 2013. "