Skydancer project hopes to help save hen harriers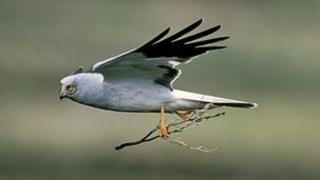 A new project by conservationists in Cumbria and Northumberland is hoping to protect hen harriers and their breeding areas by raising awareness of the birds of prey.
The RSPB say the birds are on the brink of extinction, reaching critical breeding numbers last year with only seven successful attempts in the area.
Over the next four years, the Skydancer project, named after the harriers aerobatic courtship displays, will help raise awareness of the birds.
It will focus on nest protection and community activities at remaining breeding areas in North Tynedale and at RSPB Geltsdale.
Blánaid Denman, Skydancer engagement officer, will work with the RSPB to develop and deliver a programme of events and activities to inspire and educate children and local people about the birds.
She said: "Hen harriers are an important part of our natural heritage and it is vital that we help the English population recover before it is too late.
"If this species is to have a future... we need to work with and inspire the people that live with this remarkable bird on their doorstep."
'Illegal killings'
Hen harriers prey on small birds and animals, which affects the number of grouse available to shoot.
This is said to be the main cause of conflict for landowners and conservationists, and the RSPB say ongoing illegal killing and disturbance of the birds of prey is threatening its survival.
Ms Denman said: "We know that illegal persecution is an ongoing problem and the absence of birds speaks for itself.
"I certainly hope and it's part of the aim of this project, to try and convince people, there doesn't have to always be illegal killings.
"We strongly believe that the most effective way to conserve hen harriers in the future is to find a way that they can co-exist, rather than clash, with driven grouse shooting."
The team will work with local land owners to give them a greater understanding of the birds and develop better ways of conserving them in the future.
Skydancer is funded by the Heritage Lottery Fund, United Utilities, SITA Trust and the Forestry Commission.