Great Gable hosts a Remembrance Day service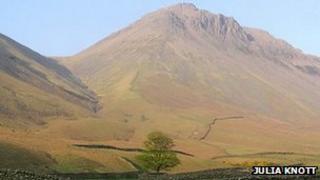 A Remembrance Day service has been held at the summit of a Lake District mountain.
An estimated 600 people climbed the 2,949ft-high (899m) peak of Great Gable for a speech and the two-minute silence.
It took place around a plaque commemorating members of the Fell and Rock Climbing Club who died in World War I.
Other ceremonies in Cumbria included service in Carlisle Cathedral.
Councillor Barry Earp, the Mayor of Carlisle, said: "Remembrance Sunday is the national day set aside to remember all our service men and women, from the United Kingdom and the Commonwealth, who served in two World Wars, and who gave the ultimate sacrifice to allow others to live in freedom.
"We will also be thinking of our brave service men and women who have lost their lives in recent conflicts."