Cave network links Cumbria, Lancashire and Yorkshire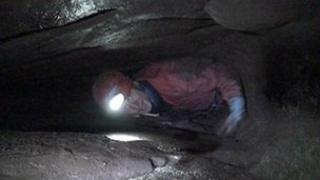 Potholers have created what they believe to be the biggest cave network in Britain under Cumbria, Lancashire and Yorkshire.
Cavers have connected more the 60 miles (about 102 km) of caverns and natural tunnels beneath the high ground near Kirkby Lonsdale in Cumbria.
The caves stretch through Cumbria, Lancashire and Yorkshire, earning its name of the Three Counties System.
The project has taken more than 40 years to complete.
Deep under the Pennines, a group of cavers have cleared a way through clay and boulders to reconnect two cave systems separated at the end of the last Ice Age.
'Mind blowing'
They have made what they say is the longest natural underground labyrinth in Britain, which totals more than 100km of caverns and tunnels.
Andy Walsh, one of the 200 potholers who made the system, has been involved in the project over the whole 40 years.
He said: "When I first started, the geologists and experts all said there was nothing more to be found and we wouldn't get a two-county system, never mind a three-county system.
"Unbelievably, in my lifetime, we've joined the whole lot up.
"The Cumbria side, each corner's passage changes shape and form completely, it's mind blowing. It's the 22nd longest in the world."
Mr Walsh is convinced this will not be the end of the system and "there is more to find".
Chris Jewell, from the British Caving Association, said he was glad to see original cave exploration in the UK and would like to see more of it.
He said: "It's great for caving to have a good news story and it's great for cavers seeing their fellow cavers being successful.
"This shows that you don't have to go to a different corner of the world for original exploration."