Climber in 300ft Grasmoor plunge 'lucky to be alive'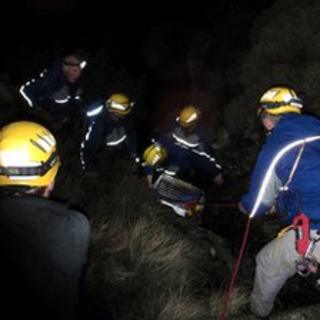 A 56-year-old climber from Cheshire who fell 300ft (91m) down a mountain in the Lake District is the "luckiest man alive", a rescuer said.
More than 30 members of the Cockermouth Mountain Rescue team were called out at 16:00 GMT on Saturday after the man fell down Grasmoor, near Buttermere.
He was found hanging on to heather near a 100ft drop, and had to be winched to safety and airlifted to hospital.
Rescuer Michael Park said his injuries were not life-threatening.
The man's two companions were escorted down the mountain by rescuers.
The man fell in Lorton Gully and was found clinging to heather above Crummock Water.
'Trail of blood'
Mr Park said: "He is basically the luckiest man alive. We believe he slipped on the descent and he tumbled all that way and was unable to stop himself.
"We believe he hit his head on a rock on the way down so we had a trail of blood to follow.
"He was still conscious when we got to him and he was just above a further 100ft drop, but he had managed to stop himself falling further.
"We believe he suffered facial injuries and possible spinal injuries, but they did not appear to be life-threatening. We did our best to comfort him and the rescue had to be carried out in the dark."
Mr Park said the man was treated at the scene by two doctors and then winched to safety by an RAF helicopter from Leconfield.
He was then flown to Furness General Hospital in Barrow.