Family helped by Children in Need-backed hospice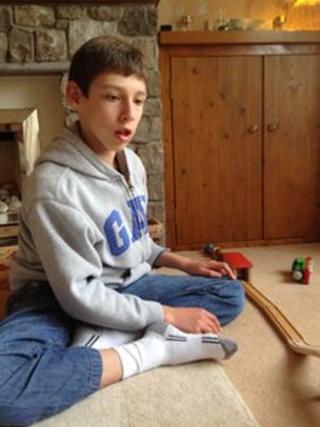 For John Hoyle and his wife Nicky, Cumbria's Eden Valley Hospice offers them much-needed support in caring for the "whirlwind" of their son Matthew.
The 13-year-old has lissencephaly, which causes severe epilepsy known as Lennox-Gastaut, as well as severe learning difficulties and severe speech and language development issues.
A few years ago they decided they needed a more support and were recommended to try Eden House, which is the charity's children's hospice.
And it is one of the Cumbrian organisations which has received funding from the BBC's Children in Need in the past.
Funding contributed to staffing at Eden House when the hospice was developing its children's service.
Mr Hoyle said Matthew was very active and lively and said no two days were the same with him.
'Happy medium'
He said: "When he is on top form he is bright as a button."
But he also said his condition put the family under pressure.
He goes to a special school full time and Mr Hoyle said when he came back home it was like a "whirlwind" hitting.
He said: "It is full-on 24/7 and that's where the hospice comes in, albeit not very often, which is great because we don't want to farm him out all the time, but once every six weeks is a happy medium."
The hospice was recommended to them and Mr Hoyle said that when they went to visit they found it homely and friendly.
Mr Hoyle said: "They have seen him on great days and they have seen him on shocking days. So we are completely comfortable with him going there.
"There are always plenty of staff. So it's really good.
"The most important thing for all of us is, one, that Matthew enjoys it and, two, it is seamless and we just go up there, drop him off and when we pick him up and there is not a pile of washing to do, everything is done, it is just seamless.
"It is probably just like him staying at a relative's, if you like."
Eden Valley Hospice chief executive Janet Ferguson said it received up to 30% of its funding from the NHS.
She said: "The rest of it we have to raise ourselves and we look to something like Children in Need.
"It's certainly something we would look to use again."
In Radio Cumbria's area, £77,272 was raised through Children in Need in 2010.
This year's Children in Need event takes place on 18 November.
Click on the link to find out how to be a part of BBC Children In Need 2011
There will be more on Matthew's story on BBC Cumbria on Wednesday.