Bio-fuel electricity plant opens in Cumbria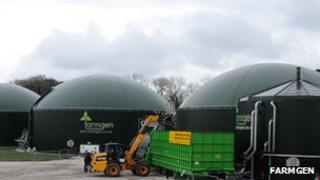 A bio-fuel energy plant costing £4m has been switched on in Cumbria.
The anaerobic digester near Silloth is expected to generate 1.2MW of electricity, enough to power over 2,000 homes, say the operators.
Rotting grass and other organic material provided by local farms will provide the raw fuel source for the system.
It took 10 months to build the Dryholme Farm site, which is modified to use grass as its major fuel source.
Simon Rigby, who set up the company behind the plant said: "It is just like a very large cows stomach and cows are very big producers of methane.
"Basically we catch the methane and put that through a modified diesel engine to generate electricity."
Farmgen received a £350,000 grant from Nuclear Management Partners, through Britain's Energy Coast to help connect the green energy plant to the National Grid.