New 'Bluebird' is disrespectful, say Campbell's family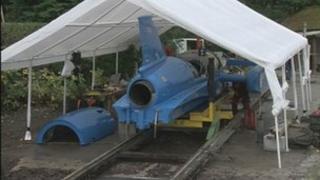 The family of Donald Campbell say they are "outraged" a replica of his boat is moored on the lake where he died trying to break the world water speed record.
A "look-alike" boat with a similar number is currently on the same slipway from which the original Bluebird K7 launched in Coniston Water.
The family said it believed its owner Helical Technology was using it for publicity ahead of a record attempt.
Pilot Jim Noone said the "successful" Bluebird was their "starting point".
"The boat is of a similar design yes. However, when we started this project, what we set out to do was build a British jet boat.
"When you start out with that there's no plans, there's nothing to go on, so you go back to the most successful boat that there has been in the past and that of course was Bluebird, so that was our starting point."
'Disrespectful to Donald'
Mr Campbell's family said it understood the firm regarded the boat as a tribute to Donald Campbell and was using it to gather data ahead of an attempt on the world water speed record.
Mr Campbell's nephew Don Wales said the family were "horrified" by the arrival of the bright blue vessel, which he said was almost identical to the original Bluebird K7 and had been called K777.
He said: "We feel that it is disrespectful to Donald, and that those responsible are clearly out to bolster their credibility as a publicity stunt by alluding to the connection with the real Bluebird - a connection that neither exists nor is wanted.
"Yes I applaud them if they're... helping to get the water speed record back into this country but I just wonder if the way they've done it, by doing an exact copy of my uncle's boat, is the right and proper way of doing it."
Mr Campbell died in 1967 while trying to increase the world water speed record to above 300mph (480km/h) in his famous jet-powered hydroplane.
The craft lifted up from the surface of the water and somersaulted before crashing and killing him.
The wreckage, which was finally recovered 34 years later in 2001, is being restored with a view to being returned to the lake for a demonstration before being put on display.