Lake District ospreys get paparazzo Sarah-Jane Cherrie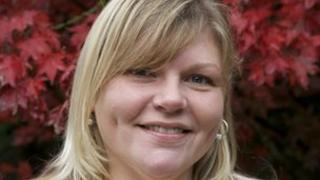 Rare birds of prey have got an official photographer to record their annual stay in Cumbria.
Sarah-Jane Cherrie will film and photograph the ospreys in their nest, near Bassenthwaite, for the next three years.
The 42-year-old, who is studying wildlife and media at the University of Cumbria, spent the summer volunteering for the Lake District Osprey Project, and so impressed its bosses they asked her to continue on an official basis.
She said that she had to enlist the help of her husband in getting close to her subject.
"The birds weren't where they were supposed to go, but had nested down in a field," she said.
'Can't count'
"I had to go down there, do battle with cows and hide in bushes while gradually working out how close we could get.
"My husband was very helpful, he's a former soldier so he's very good at building hides and sneaking up on things."
One trick they employed was for two people to set off across the field, then one person ducks into the hide while the other walks on.
"The birds know that someone was down there, but don't know two walked on but only one walked off," she said.
"They think the danger has passed. Luckily for me, they can't count."
Ms Cherrie had worked in media, marketing and events around the world, and taught business in Russia and Libya, before returning to her native Cumbria 18 months ago.
Speaking of her work over the summer, she said: "We took it very slowly.
"Gradually by stealth, and by gaining the trust of the cows, as well as convincing the powers that be that I wasn't going to make the birds fly away.
"At the end of the summer they said 'would you mind awfully doing this for the next few years', and I said 'yes please'.
The osprey pair and their two offspring have now flown south to The Gambia for the winter, so project workers will build nests and install live camera feeds for their return in the coming year.
"It has been a huge step forward for the osprey project to have Sarah on board this season," Nathan Fox, Lake District Osprey Project manager, said.
"Hopefully, she will also be able to make a record of the work that goes on behind the scenes, even throughout the winter, to share with our many followers."