London 2012: Olympic torch set for Windermere steamer ride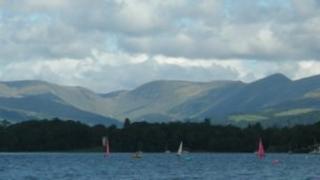 The Olympic torch is to take a trip on a Windermere steamer in June 2012 as part of its nationwide tour.
Arriving from the east, it will travel through many areas of Cumbria before it heads south towards Blackpool.
Thousands of torchbearers are being recruited for the flame's 70-day journey across the UK before the opening ceremony in London.
There will be two overnight stops in the county, at Carlisle and Bowness-on-Windermere.
Evening celebrations are to be held at both locations.
Brough will be the first place in Cumbria visited by the Olympic torch, on day 33 of its journey around the British Isles.
From there it will travel towards Carlisle via Appleby and Penrith.
Day 34, 21 June, will see the torch traverse the county from Carlisle in the north via Whitehaven in west Cumbria. It will also travel into southern Scotland.
Arriving in the central Lake District, the torch will take a steam boat across Windermere from Waterhead to Bowness.
Starting day 35, the torch will leave the county via Kendal and Milnthorpe on its way towards Blackpool.
Cumbria County Council Leader Eddie Martin said: "I'm thrilled that Cumbria is playing its part in the build up to the Olympics.
"With two of seven celebration events in the North West taking place in county, we've really got the opportunity to get into the Olympic spirit.
"I'm particularly looking forward to tracking the Olympic torch's progress through the county and we're awaiting with interest news of which Cumbrians have been selected for the relay. "
The relay will begin at Land's End, Cornwall, on Saturday, 19 May and end on Friday, 27 July in the Olympic Stadium.