Grayrigg inquest: Engineer 'forgot' to inspect track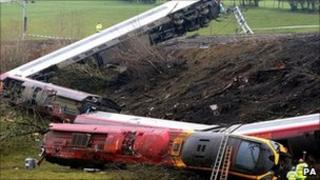 A Network Rail engineer broke down in tears as he told an inquest he forgot to inspect the points which caused the Grayrigg train crash in Cumbria.
Maintenance manager David Lewis said he was "under pressure" when he failed to patrol a section of the West Coast Main Line five days before the crash.
He told the hearing at Kendal he felt like a man "spinning plates on sticks".
Margaret Masson, 84, from Glasgow, a passenger on the Virgin Pendolino which left the track in 2007, was killed.
The hearing was told how the day after the February crash, Mr Lewis told his manager that the failure to patrol the stretch of line was "down to me, it was my responsibility".
The inquest jury also heard how Mr Lewis and his team were "under staffed" and "under pressure" and their work was "not entirely compliant".
Colleague Paul Wills, an assistant track section manager for Network Rail, told the inquest staff had to put up with "bully-boy" management.
He said workers had been harassed while carrying out inspections of the track in Cumbria and a backlog of maintenance work had piled-up due to lack of time.
Mr Wills said it was part of his job to take work gangs to inspect the track on Sunday mornings.
But this meant no trains could pass that part of the line while the inspections were under way, so his workers were under constant pressure to get off the track.
A statement given by Mr Wills following the crash was read to the inquest jury.
In it he said "Prior to the derailment there was a lot of bully-boy tactics. It is easier to come to work now but it is not easier to do the work."
Mrs Masson died and 88 people were injured when the train was derailed two seconds after travelling over the points at more than 90mph at 20:11 GMT on 23 February.
Earlier the inquest was told how Mr Lewis sent an email to his bosses one year before the crash, in which he described the inspection system as a "shambles".
Mr Lewis said in his email: "It's time for the hierarchy to stop ducking the issue and sort this shambles out once and for all... ensuring the infrastructure is now safe and fit for purpose is now virtually impossible."
The hearing continues.