Cumbria University student Abi Clarke in charity volcano trek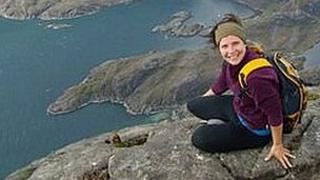 A Cumbria University student is to take part in a three peaks challenge with a difference - by tackling volcanoes in Central America.
Abi Clarke, 33, who lives in Carlisle, is doing the charity challenge, known as "The Devil's Pitchfork" during her social work placement in Guatemala.
Cash will go to the Education for the Children foundation (EFTC), which supports schooling for poor families.
She plans to take on Pacaya, Acatenango and Fuego in January.
Pacaya and Fuego are still classed as active volcanoes.
'Love walking'
Ms Clarke, a second-year student, said: "I will be climbing three volcanoes, two of them are still active, and two of them are between 3,700 and 4,000m high, which means there is altitude to contend with too.
"I love walking out on the fells in Cumbria and I enjoy a good physical challenge, so when I was asked to take part in the event I jumped at the chance.
"We don't realise how lucky we are to live in a country where we can afford to be educated."
Although education has been free in Guatemala since 2009, many poorer families struggle with associated costs such as learning equipment and uniforms.
Ms Clarke will be part of a small group taking part in the three-day challenge, which is due to begin on 27 January. She hopes to raise £2,000.