Grayrigg crash: Line inspection system 'a shambles'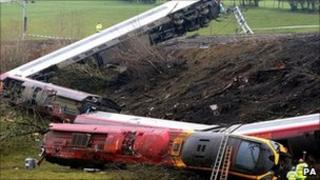 An inquest into the death of a woman in a train crash has heard from some of the engineers responsible for looking after the points on the line.
Margaret Masson, 84 and from Glasgow, was travelling on a Virgin Pendolino service which left the track near Grayrigg, Cumbria, in February 2007.
The cause had previously been blamed on a "degraded and unsafe" set of points.
An email from one of the Network Rail maintenance team described the inspection system as "a shambles".
The email, by David Lewis to his bosses, one year before the crash, said: "It's time for the hierarchy to stop ducking the issue and sort this shambles out once and for all... ensuring the infrastructure is now safe and fit for purpose is now virtually impossible.
Safety-critical faults
"Whilst I understand the need to remain within budget, I'm at a loss to understand how I am expected to maintain a safe and compliant railway."
It was read to the inquest during evidence by track maintenance engineer Paul Kingham.
Mr Kingham said that the £11bn upgrade of the West Coast Main Line meant that with faster trains there was less time to carry out inspection patrols and maintenance.
However, it emerged during questioning by a barrister for Network Rail, that speed limits were imposed and time was allowed for safety-critical faults to be repaired.
Mrs Masson, 84 and from Glasgow, died and 88 people were injured when the train was derailed two seconds after travelling over the points at more than 90mph at 20:11 GMT on 23 February 2007.
The hearing continues.