Experts conserve Townend book collection in Cumbria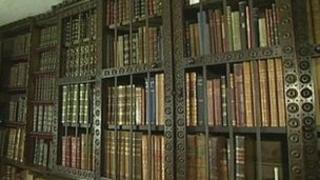 Built up over 400 years, a rare book collection in Cumbria is receiving some care and attention from conservators thanks to a £40,000 grant.
The library at Townend near Windermere contains about 1,500 books covering a wide variety of subjects.
Conservators say that the main threat to the collection is gravity, as it causes the pages to twist and will, if left, slowly rip the covers apart.
The house was home to the Browne family, a family of Yeoman farmers.
Cathrien van Hak, National Trust custodian at Townend, said: "Gravity is the silent killer. In many of the books, the pages are becoming detached from the cover due simply to gravity.
"The hardcover books have a gap at the bottom, as the covers are slightly bigger than the pages. This means that when the book sits on the shelf, the pages are pulled down by gravity, so they rest on the shelf.
"This causes the pages to twist and turn in the binding, and it will eventually, slowly rip the pages and the cover apart."
Many of the books will be conserved in situ. However, some like the oldest book in the collection from 1550, are likely to be sent away for more specialised work to be done.
A £40,000 grant from the Wolfson Foundation has enabled conservation staff to carry out some of the work.
The project is expected to take about seven months to complete.
Given the wide variety of books and their differing ages, the library at Townend is seen by the National Trust as one of the top three libraries within the organisation.
Townend is a traditional stone and slate farmhouse in the Troutbeck Valley.
The property has been in the care of the National Trust since 1948.