Grayrigg crash: Black box shows how train jackknifed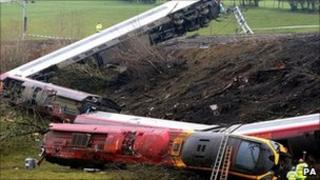 A train jackknifed and derailed less than two seconds after travelling over a "degraded and unsafe" set of points, an inquest has heard.
The Virgin Pendolino London to Glasgow service left the track near Grayrigg in Cumbria in February 2007.
Margaret Masson, 84, died in the crash, and a further 88 people were injured.
Data collected by the train's "black box" showed it was travelling at 92mph (148km/h) when the first two carriages began to jackknife.
Mrs Masson, from Glasgow, was travelling on the train when it crashed at 20:11 GMT on 23 February 2007.
She was taken by helicopter to hospital but was pronounced dead at 23:00 BST the same night.
The cause of the crash has previously been blamed on a "degraded and unsafe" set of points.
Perched 'precariously'
The black box data recorder revealed the final seconds before the 300-tonne train derailed at 95mph with 109 passengers and crew on-board.
The inquest jury, sitting at the County Offices in Kendal, were shown a series of photographs detailing the derailment.
Data recovered from the crash site showed the first and second carriages began to jackknife 1.63 seconds after the train travelled over the points.
The following coaches were then derailed further up the track, which had been damaged by the initial derailment.
The first two coaches then slipped down the trackside embankment, spinning 190 degrees and turning on to their side before coming to rest in a field.
Winston Rasaiah, from the Rail Accident Investigation Branch (RAIB), told the inquest the condition of the train or the way it was being driven played no part in the derailment.
He explained how the second carriage hit three line-side masts and began to roll over before one end slipped down the embankment, digging into the earth, with the other end in the air.
Carriages three, four and five also slid down and toppled over on to their left-hand sides, with the remaining four carriages left perched "precariously" on the embankment top.
The hearing continues.