Work on £1.1m transformation of historic Silloth green begins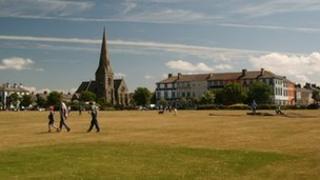 Work has begun on a £1.1m transformation of an historic green in Cumbria.
As part of the restoration, features will be restored at the Green in Silloth, including the Victorian Pagoda and Edwardian public toilets.
There will also be a new events area, putting green, a water and a woodland adventure play area, new park furniture and improved lighting.
The work is expected to take about six months and will be completed in 2012.
Deputy mayor of Silloth Tony Markley said: "Improving the Green is great news for local people and will help to boost the town's tourist trade.
"The Green is the focal point of the town and will provide a centre-piece attraction that we can be really proud of for many years to come."
The project is supported by £1.1m from the Heritage Lottery Fund and £100,000 from the Rural Development Programme for England.
Silloth Town Council, the Heritage Lottery Fund, Cumbria County Council, Allerdale Borough Council and Silloth Regeneration are all working on the restoration.