Ulverston man sues hospital over deaths of wife and baby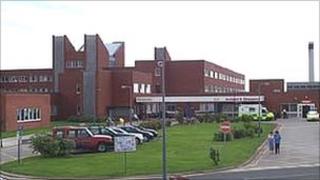 The father of one of the babies who died at Furness General Hospital is suing the trust that runs it.
Carl Hendrickson's wife Nittaya and newborn son Chester both died at the hospital's maternity unit, in 2008.
Cumbria Police are currently investigating the death of a number of babies and mothers at the unit.
Mr Hendrickson, 44, from Ulverston and several others are claiming damages for clinical negligence from Morecambe Bay NHS Foundation Trust.
His wife and baby died after Mrs Hendrickson suffered an amniotic fluid embolism, where amniotic fluid gets into the mother's bloodstream.
'Extremely hard'
"The effect on me and our son Conrad has been devastating and it is really upsetting that every day some new information is coming to light about patient safety at Furness General Hospital.
"Without the full facts, we are finding it very difficult to come to terms with their deaths and it has been extremely hard to find answers.
"If I'd known what I know now when Nittaya was pregnant, she would not have set foot in that hospital," said Mr Hendrickson.
Police have not yet confirmed how many deaths they are investigating.
It is anticipated Mr Hendrickson's claim for damages for the two deaths will exceed £50,000.
The trust is preparing a statement.