Crackdown on poaching in Cumbria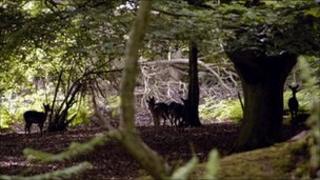 Wildlife crime officers have begun an operation to crack down on poaching in Cumbria.
Operation Samurai was launched by South Cumbria Police at Grizedale Forest after six stags' heads were dumped in the county earlier this year.
PC John Baldwin, from the Deer Management Group, is leading the operation.
About 30 cars were stopped on Monday night. Five people were searched but no poachers were arrested.
Police say they are seeing more evidence of poachers killing wild deer in Cumbria.
PC Baldwin said: "We've got evidence of at least three persons acting independently in the area at the moment and that's what the operation is aimed at."
Alastair Boston from the Deer Management Initiative said: "They've no morals, they'll take out deer whatever they are.
"They can use dogs, to illegal use of firearms, lamps or even thermal imaging - it's very sophisticated stuff."
About 50,000 deer are illegally killed each year in the UK according to the British Deer Society.