Farmer refuses to remove 'hamlet' in Cumbria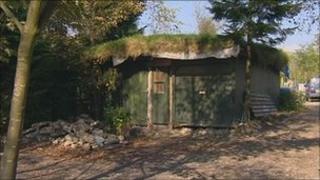 A farmer has refused to dismantle a "ramshackle hamlet" which was built without planning permission.
About 15 lodges, created out of recycled static caravans, are home to 19 people at Holme House Farm near Kendal in Cumbria.
Edward Steele, who leases the land, was given a year to start clearing the site after a public inquiry but the deadline has now passed.
South Lakeland District Council said the land was now illegally occupied.
At the public inquiry in 2010, a lawyer for the council referred to the scattered collection of lodges as a "ramshackle hamlet".
According to Mr Steel some of the lodges are currently vacant, but 19 people live in those that must be demolished.
"I don't want to evict people, to make them homeless, especially for Christmas," he said.
"I will be putting a revised plan in. I don't know what they're [South Lakeland District Council] going to do, but I've got from now till end of March to reinstate all this ground, so all they can do is evict the tenants."
Liberal Democrat councillor Peter Thornton said: "This occupation has never actually applied for planning permission at all.
"As a council we now have to take this into consideration. What was an unauthorised occupation now today, when the enforcement notice runs out, becomes an illegal occupation.
"The bulldozer scenario is an absolute last resort and we will do anything to avoid that.
"We've got to talk to the people who are occupying these lodges, who are now occupying illegally, which makes a big difference."