Cumbria's Sellafield plant moves first nuclear fuel in 50 years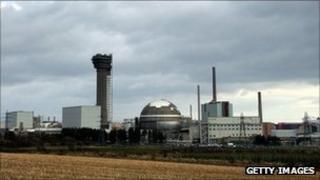 Sellafield in Cumbria has reached a milestone after successfully moving its first nuclear fuel in 50 years.
The nuclear plant is decommissioning The Pile Fuel Storage Pond (PFSP), which was the very first nuclear fuel storage pond built at the site.
It was originally used to store fuel from the Windscale Pile Reactors and is the largest open air nuclear storage pond in the world.
It is the first time the plant has moved nuclear fuel since 1964.
The pond was built between 1948 and 1952 to store nuclear fuel and isotopes from the Windscale Reactors which produced materials for the defence industry.
It ceased operation in the 1970s, but it is one of four sites at the plant that is identified as a top priority for risk and hazard reduction and one of the most challenging decommissioning projects.
Dave Polkey from Sellafield, said: "This is a significant achievement as it's the first time since 1964 that we've been in a position to safely export nuclear fuel, the majority of which was burnt in the Windscale Piles reactors."
The decommissioning programme is said to be five years ahead of its target, with the plant hoping to have all fuel retrieved by 2015.