Cumbrian seabirds have best and worst breeding season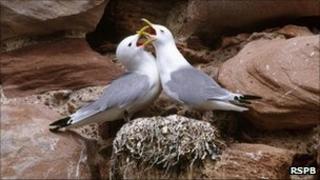 Seabird colonies at a Cumbrian nature reserve have had an unusual breeding season this year - recording the highest and lowest numbers of birds.
Staff at RSPB St Bees Head recorded the highest number ever of black guillemots - but kittiwake numbers were down almost 10% from last season.
The number of black guillemots increased by two thirds.
However, since 2000, kittiwake numbers at St Bees have declined by more than a third.
The decline is a worrying national trend for the species - declining 40% between 1999 - 2009 according to the RSPB.
Safeguarding pledge
RSPB's marine conservation officer, Clare Reed, said: "It is great news that black guillemots have had such a great season... we hope it will help to ensure that black guillemots continue to thrive in the future."
The black guillemots of St Bees are set to be the only seabirds in the Irish Sea to be given legal protection while they are at sea.
Although all nesting seabirds in the UK are protected on land, currently there is no equivalent legislation to safeguard the birds once they leave dry land.
The RSPB has started a pledge to resolve the problem, calling on ministers to safeguard seabirds.
Clare Reed added: "We have broader concerns about the proposed network of marine sites as a whole.
"This is why we are asking people who enjoy watching seabirds to sign our marine pledge.
"The more signatures we can get, the more pressure we can put on the government to help ensure that seabirds get the same level of protection at sea as they enjoy on land."