Tornado steam locomotive sets new record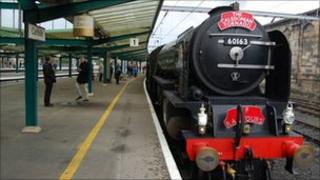 The newest steam locomotive in Britain has completed the longest single day trip by a steam engine in four decades.
Tornado was built by enthusiasts in Darlington at a cost of £3m.
During the return trip from Crewe to Glasgow it travelled the most miles in 24 hours by a steam locomotive in Britain since the 1960s.
The 535-mile route included two of the most arduous railway gradients in the British Isles, Shap Fell in Cumbria and Beattock Bank in the southern uplands.
As part of the journey the Peppercorn A1 Class locomotive made its first visit to Glasgow.
Mark Allatt, chairman of the A1 Steam Trust which owns Tornado, said: "The biggest challenge running a steam locomotive on the main line is the lack of water.
"When we built the locomotive we did tweak the design in a few places. One of the things we did was to alter the balance between coal and water, so we can put more water in."
'Childhood memories'
Arriving at Carlisle for a crew change, Pete Sheridan handed the northbound engine over to a new driver.
Mr Sheridan, who was covered with soot, said: "We've kept time and had a good day out.
"It's a quick crew change that's all the stop was for. So we've done our wee bit now. We are going home and the lads are going to take it forward to Glasgow."
Stephen Ballantyne from Fife was one of the many people gathered at Carlisle railway station as the train arrived.
"It brings back childhood memories," he said.
"To actually come up today and see a genuine Pacific is just amazing."
The A1 class steam locomotives were designed by Arthur H Peppercorn, and 49 were built during 1948 and 1949 by British Railways.
However, following the introduction of diesel engines, they had all been scrapped by 1966.
The Tornado, in her new livery of BR Brunswick green, arrived back at Crewe at 01:49 BST on Thursday.
The official Network Rail log shows that the train travelled a total of 535 miles (861 km).
The outward journey, via Manchester, was 259 miles (417km). With the return journey a distance of 244 miles (393km). In addition 32 miles (51km) were travelled due to stock movement in Glasgow.