Football match in memory of Ian Molyneux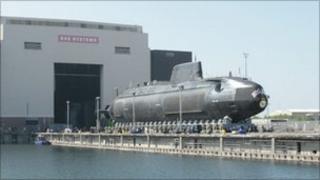 The crews of two Cumbrian-built nuclear submarines will line up for a football match in memory of a colleague later.
Lieutenant Commander Ian Molyneux, 36, from Wigan, Greater Manchester, was shot on board HMS Astute when it was docked in Southampton in April.
Crew members from HMS Astute will play members of the submarine, Ambush.
The match will take place at Barrow AFC's Holker Street ground after the club donated the use of its facilities.
Lieutenant Commander Richard Brooking, weapons engineering officer from Ambush, said: "We thought it would be a good way to get the two crews together and obviously mark an occasion of a fallen colleague.
"We don't get a chance to see each other as programmes don't allow the boats to meet up that often. But when we do there is a bit of friendly rivalry."
There will be collections for the Royal Navy and Royal Marine Charity at the game.
Lt Cdr Brooking added "The chance to play at the Bluebirds' ground, I think is an honour for both teams and something they will be proud of for many years."
The charity game will kick-off at 17:00 BST.
Able Seaman Ryan Samuel Donovan, 22, of Dartford, Kent, is charged with murder and three counts of attempted murder. He is next due before Winchester Crown Court on 19 September.