Butchers Arms in Crosby Ravensworth taken over by locals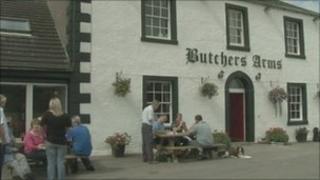 Hundreds of people have clubbed together to buy a Cumbrian pub which had been closed for almost a year.
The Butchers Arms in Crosby Ravensworth, near Penrith, was bought by a group of 300 people who invested a minimum of £250 each.
About £300,000 was raised to purchase the property, which has been renovated with the help of volunteers.
It will be reopened by John Stubbs, who spent his childhood in the pub with his mother and now lives in Australia.
Mr Stubbs, who left Crosby Ravensworth almost 40 years ago, said: "I'm certain my mother would be thrilled if she knew that the Butchers Arms was getting a new lease of life with such enthusiastic support from the local community."
The pub, which has been closed for almost a year, has been brought back to life with the aid of a community fund created by the Co-operative Group.
Cameron Smith, treasurer of the new co-operative, said: "This has been an incredible community project to be involved in and this pub will now benefit from having around 300 co-owners committed to its future success.
"It has brought our community together in many different ways.
"Our aim has always been quite simple, to buy, refurbish and re-open a traditional Cumbrian pub that will source locally and support the local community and economy wherever possible, selling good quality food, real ales and offering a warm welcome to all."
New landlords, Keith Taylor and Bev Percy, added: "We have been amazed by the dedication and efforts of the community and volunteers.
"Seeing all of the recent activity has confirmed our view that The Butchers will once again be a successful pub and, to have 300 shareholders with an interest in the success of the enterprise is an excellent position to start from."
The official opening will take place on Saturday.