Taser used a number of times on Dale Burns before death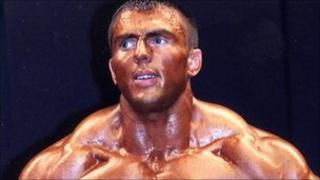 A Taser was discharged a number of times at a man who later died in Cumbria, the police watchdog said.
Pepper spray was also used when Cumbria Police attempted to arrest a man at a flat in Hartington Street, Barrow, at 18:30 BST on Tuesday.
Dale Burns, 27, was taken to hospital where his condition deteriorated and he was later pronounced dead.
The Independent Police Complaints Commission (IPCC) is investigating.
It has been examining police logs and listening to officers' accounts.
The IPCC said officers were called to a report of concern for the welfare of a man in an upstairs flat in Hartington Street at 18:30 BST.
They arrived about 10 minutes later and called an ambulance.
It said police attempted to arrest the man on suspicion of causing criminal damage at the flat.
During the arrest one officer discharged a Taser a number of times and another officer deployed pepper spray, it said.
The Taser is understood to be a conventional police weapon.
A post-mortem examination is due to be carried out later.
IPCC Commissioner Naseem Malik sent her condolences to Mr Burns' family.
She said: "Investigators are at the locality beginning their inquiries and are making contact with Mr Burns' family to explain to them what we know so far and how the investigation will progress.
"A Taser and spray was deployed during the arrest and we will be examining whether the actions of police officers were proportionate in the circumstances and in accordance with police procedures.
"We will need to await the results of a post mortem [examination] and any necessary tests to establish how Mr Burns died.
"In the meantime I would urge people to have patience while we seek to gain answers to the questions understandably raised."
Amnesty International expressed its concern about the wider deployment of Tasers following the incident.