Dale Burns dies after being Tasered by police in Barrow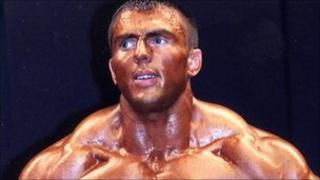 A man has died after being Tasered by police officers in Cumbria.
Police were called to Hartington Street, in Barrow, at 18:30 BST on Tuesday, following reports of a 27-year-old man causing a disturbance.
A Taser was used during the arrest of the man, named locally as Dale Burns. He complained of feeling unwell and was taken to hospital, where he died.
The incident has been referred to the Independent Police Complaints Commission (IPCC).
A Cumbria Police spokesman said: "Neighbourhood police officers attended the scene and arrested a male on suspicion of causing criminal damage and, during the arrest, a Taser was deployed.
"The man became unwell following the arrest and was taken to Furness General Hospital by officers.
"At around 9pm the man, who was in his 20s and lived locally, was pronounced dead."
The IPCC said it understood as well as a Taser being deployed, pepper spray was also used.
Stan Dewhurst, who runs the Flex Appeal gym in the town, said he had known Mr Burns since he was 15 when he joined the gym.
He said: "Even though I am 20 years older than him he was like one of my best friends, he was like my son. And I think everybody knows that.
"It is just a massive shock to me."
Amnesty International expressed its concern about the wider deployment of Tasers following the incident.
Spokesperson Eulette Ewart said: "While we're not able to comment on the details of this specific tragic incident, Amnesty International has long been concerned at the wider deployment of the Taser across UK police forces.
"Tasers are potentially lethal and therefore should only be used in a limited set of instances where there is a very real threat of loss of life.
"Only officers who receive the highest standard of training on how and when to use Tasers should be armed with these weapons and there must be a high level of accountability whenever Tasers are used."