Cumbria detective Mark Fisher jailed for misconduct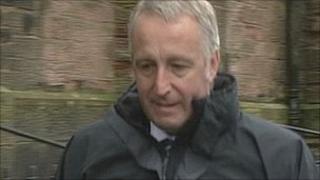 A Cumbria detective who used police computers to access women's details has been jailed for four years after being found guilty of misconduct.
Det Con Mark Fisher, who had sex with an alleged assault victim, was accused of abusing his position.
The 49-year-old, of Cockermouth, denied nine charges of misconduct in a public office, but was found guilty of five.
Judge Paul Batty QC at Carlisle Crown Court told Fisher he had disgraced the public office he held.
But he said he had taken into account his years of public service when sentencing him.
Wanted sex
Cumbria's Deputy Chief Constable Stuart Hyde said: "Today's sentence highlights our commitment to protecting vulnerable members of the community and safeguarding sensitive information.
"I would again like to acknowledge the bravery of Fisher's victims and thank them for bringing his behaviour to our attention so that we could take action."
During the trial, the married father of two admitted having sex with the victim of an alleged attack, and showing her a picture of the woman accused of assaulting her.
He said he had "just wanted sex" and had made mistakes.
The guilty verdicts related to using police systems inappropriately to access personal information about a number of women, and using his position to facilitate relationships with them at a time when they were vulnerable.
Failed duties
Fisher also gave money and alcohol to one woman while she was staying in a hostel and offered to pay the woman's drug debts in return for sex.
When the offences were carried out, between 2008 and 2010, Fisher was a sexual offenders' manager based in the force's Public Protection Unit.
Mr Hyde added: "Honesty and integrity are two of the most important characteristics of a police officer, but Fisher failed in his duties to protect vulnerable members of the community.
"He abused his position of trust and in the process let himself down, let his colleagues down and, most importantly, let the community in Cumbria down."
He added that steps would now be taken to dismiss Fisher from the force.