Carlisle bypass first section opened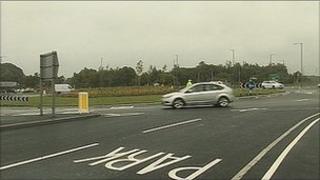 The first section of a £176m bypass scheme for Carlisle has been opened.
The Carlisle Northern Development Route will link the A595 at Newby West to junction 44 on the M6 with a 8.25km (5.13 mile) single carriageway.
Among the aims are to ease traffic flow and improve public transport.
The 2km (1.2mile) northern section has been opened to give traffic direct access into Kingmoor Park from the roundabout at Junction 44.
It is currently hoped the whole road will be opened by the end of the year.
Cumbria County Council cabinet member for highways Tony Markley said: "The opening of this new section of road is a major achievement and an important milestone towards the opening of the Carlisle Northern Development Route.
"There's still a great deal of work to do but we're making good progress."
He said the road would result in transport and economic improvements to Carlisle and west Cumbria.