Two ospreys born in the Lake District fledge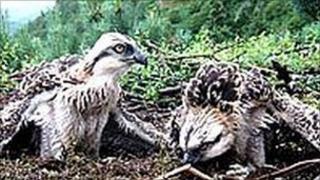 Two osprey chicks born at a nest in the Lake District have fledged.
The birds of prey are the young of a pair of ospreys that are regular visitors to Bassenthwaite Lake.
The adult male, called No Ring, came to Bassenthwaite in 2001 and was the first to nest in the Lakes for 150 years. The female is one he paired with in 2007.
Visitors are able to see the ospreys in flight at a special viewpoint at Dodd Wood, near Keswick, run by the Lake District Osprey Project.
Project spokesman Pete Barron said: "At the moment, the parents are still feeding the juveniles, but over the next few months the birds will gradually become increasingly independent.
"Mum will soon fly away, leaving them in the capable hands of dad, who will stay in Bassenthwaite until both chicks have left to make their journey south to the coast of west Africa."
The Lake District Osprey Project is a partnership between The Forestry Commission, the RSPB and the Lake District National Park.