West Cumbrian church reopens 19 months after floods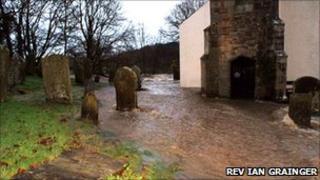 The parish church in Camerton in west Cumbria is set to reopen 19 months after flood waters forced it to close.
The floods of 2009 caused the Miser Bridge to collapse, isolating St Peter's Church.
Boundary walls and gravestones were toppled, but water stopped just short of the church threshold, sparing it any major internal damage.
Vehicle access was restored in 2010, but reconnection of the electricity supply has delayed the reopening.
Reverend Ian Granger said in 2009, following his first visit to the church after the floods, the scene was one of "absolute carnage".
Camerton village hall has been used as a temporary venue for church services on the first Sunday of each month.
The church bell, removed for refurbishment just before the floods, has been reinstalled and is ready to ring out and welcome worshippers once again.
Surrounded by the River Derwent on three sides, St Peter's Church is positioned in a valley east of Workington.
Work is still needed to restore the riverbank, boundary walls and the graveyard.
St Peter's Church will reopen for worship on Sunday, 3 July at 1100 BST, with a service of Holy Communion, during which a baptism will take place.
Mr Granger said ahead of the first service: "Baptism is a symbol of new life and this Sunday is a symbol of new life for St. Peter's, Camerton".