Windermere otter found dead in illegal trap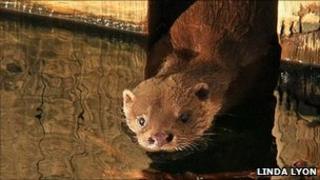 Police and Environment Agency officials are investigating the death of an otter found in an illegal trap on Windermere.
The otter was discovered on Thursday and is believed to have been in the trap for several hours.
The animals are a protected species and trappers face fines of up to £5,000 or up to six months in prison.
Several wild otters were spotted in the lake earlier this year and have attracted visitors and natural history photographers.
David Hall, fisheries officer for the Environment Agency, said: "The use of traps within Lake Windermere is illegal.
"We are working very closely with Cumbria Police to establish where this trap came from, what its purpose was and we will assist in finding out why this otter died."
Cumbria Police wildlife officer Pc John Baldwin said: "We are currently investigating this case of illegal trapping of an otter and would appeal to members of the public to assist us with our inquiries.
"The use of these traps is illegal and in partnership with the Environment Agency, we will look to take enforcement action against anyone who can be traced settings these traps."