Ulverston supermarket plan could create 200 new jobs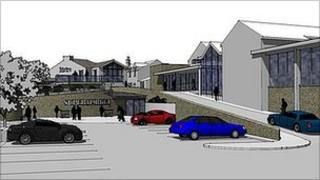 Up to 200 new jobs could be created under plans to redevelop a former brewery site in South Cumbria.
Owners of the Robinsons Brewery complex in Ulverston have submitted a plans for a supermarket and underground car park.
If approved the revamped site is expected to be completed by the end of next year.
The application follows a recent study which showed Ulverston loses about 70% of its convenience food spend to surrounding towns.
William Robinson, director of Robinsons Brewery, said: "We believe that this redevelopment of the old brewery site is good for the long-term future of Ulverston and its residents and traders.
"The location is ideal for offering pedestrian access to the town centre, without any need to cross a major roadway, and our vision is for the site to become a hub of activity within Ulverston."
The proposals are to be considered by South Lakeland Council and Cumbria County Council later.