Rare dragonfly returns to reserve in south Cumbria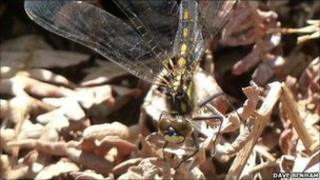 A rare dragonfly has returned to a nature reserve in Cumbria for the first time this century.
The hatching of the first white-faced darters is part of a three-year project to re-introduce the insect near Kendal.
Working with the British Dragonfly Society and Natural England, the Cumbria Wildlife Trust is now on the second of three annual phases of the reintroduction.
It is hoped that the dragonflies will now colonise the Foulshaw Moss Reserve.
Aquatic larvae of the white-faced darter were collected from a donor site in north Cumbria and introduced to pools at Foulshaw Moss in 2010 and early in 2011.
John Dunbavin, Reserves Officer for Cumbria Wildlife Trust, said; "The restoration work at Foulshaw Moss has really played a significant part in conserving the many threatened species that are only found on our lowland raised bogs."
Foulshaw Moss Nature Reserve is one of three large lowland raised bogs that make up the Witherslack Mosses Special Area of Conservation (SAC) in south Cumbria.
The white-faced darter, is currently found on fewer than 10 sites in England.
The male is mainly black with scarlet and orange markings. Females are also predominantly black but have pale yellow markings.
It likes to make its home in lowland peat bogs where it can find rafts of sphagnum moss at the edges of acidic bog pools in which to lay its eggs.
Cumbria Wildlife Trust has been restoring Foulshaw Moss since 1998.