St Michael's Church in Shap may close after metal theft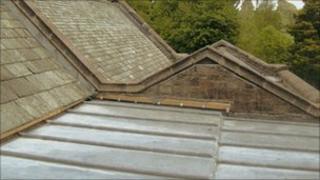 A Cumbrian church is facing closure after thieves made off with 1.5 tonnes of lead from its roof.
The value of metal taken from the Grade II Listed St Michael's in Shap was about £1,000. But the repair bill has been put at £32,500.
Reverend Martin Dew said the church's insurance policy would only meet a fraction of the repair costs.
He said if a campaign to raise funds from the local community failed, the church could be forced to close.
Police are investigating the theft, which occurred last month.
Shower in church
Mr Dew said: "Most of the lead taken was the flashing, which is the most expensive part to replace.
"This means we basically now have a large section of the roof open to the elements. So when it rains heavily now it's like standing under a shower in the church.
"The cost of repairs is absolutely horrendous because it is a listed building and we have to have an architect and everything else.
"We've had a couple of estimates and it's coming in at about £32,500.
"We are insured, but over the past few years companies have reduced their liabilities when it comes to metal thefts and as a result we can only claim for losses up to £5,000 in any one year."
"If we don't get the help we need then unfortunately the church may have to close," he added.